Your On-Line Guide to
The Healing Energies, Metaphysical Properties,
Legendary Uses, and Meaning
of
Moss Agate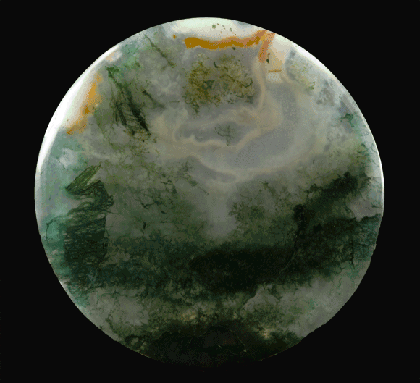 Introduction to Meaning and Uses of Moss Agate
Moss Agate is not banded, and therefore not strictly an Agate in scientific terms; but is included in the Agate family. Agate is a variety of Chalcedony, a mineral of the Quartz family. It is clear to milky white, with dendritic inclusions of manganese or iron that has grown into patterns similar to moss or lichen. Spots of red may occur in some specimens, and occasionally the crystal is dark green with bluish inclusions.
Throughout history and all cultures, Moss Agate has been known as the crystal of gardeners and agriculture. It was considered a miraculous healing stone for tribal priests of the past, giving them power to interact with our human organic system, and was used as a talisman to make warriors strong and victorious. [Mella, 69]
Metaphysically, Agate has a lower intensity and vibrates to a slower frequency than other stones, but is highly regarded as a stabilizing and strengthening influence. [Simmons, 6] Agate is excellent for balancing emotional, physical and intellectual energy, and in harmonizing Yin and Yang, the positive and negative forces of the universe. [Hall, 39]
Moss Agate Uses and Purposes – Overview
As a stone of abundance, Moss Agate is known for its benefits in agricultural pursuits and has been successful in promoting the growth of new crops. Planted in a pot or flower bed, it increases the overall health of plants. [Melody, 92-93][Eason, 253]
Moss Agate is also a stone of wealth, attracting abundance in all forms. In the workplace, it draws new business and gradual expansion, increasing prosperity over time. It is good for small businesses and the self-employed, and a fortifying crystal for financial institutions. Keep one near when working on tax returns, spread sheets or figures that will not add up, and one with bank papers to encourage savings. [Eason, 253]
Useful as a birthing crystal, Moss Agate aids midwives in their work, reducing pain and assisting in delivery. It is a stone of new beginnings. [Hall, 48][Eason, 253]
Moss Agate is extremely beneficial as a body strengthener in times of stress. Its steady energies aid those who feel unstable or ungrounded. It is an excellent stone for convalescing after illness, or in recovery from addictions. It enhances mental concentration, persistence and endurance, making it useful as an aid in physical exercise programs, therapies, or body building. [Mella, 69][Simmons, 12]
Moss Agate is a cleansing crystal, useful for clearing personal energy systems as well as environmental. [Mella, 69] It is helpful in reducing sensitivity to weather. [Hall, 47] It brings new friendships, and worn as jewelry or placed over the heart at night, will attract new love or the re-growth of former love. [Eason, 253]
The Native American Indians used Moss Agate as a power stone, and it has been successfully used in cloud-busting and aiding the weather patterns to reach ultimate equilibrium. [Melody, 93]
As a professional support stone, Moss Agate detoxifies body energies in veterinarians, and helps prevent sensitivity to food products for chefs, bakers and cooks. [Mella, 130, 133]


Moss Agate Healing Therapies – Overview
(Please note: Information on this web site is no substitute for consulting a health care professional. All information contained on this web site, including information relating to medical and health conditions, products and treatments, is for informational purposes only. Please see your doctor or health care professional before starting any alternative treatments, diets, supplements or exercise programs.)
Moss Agate Physical Healing Energy
Moss Agate enhances the acuity of the senses and neuronal activity. [Ahsian, 13] It helps eliminate depression caused by left-right brain imbalance, and stimulates mental function by improving concentration, perception, and analytical abilities. [Hall, 39, 48]
Moss Agate is anti-inflammatory and helps treat infections and swelling, colds and flu, and lowers fever. It is useful for long-term illness and recovery, boosting the immune system, and is thought to prevent hypoglycemia and dehydration. As an elixir applied to the skin, Moss Agate treats fungal and skin infections and irritations. [Melody, 93][Hall, 48][Eason, 253]
Moss Agate is helpful to the circulatory system, regulating pulse and other heartbeat irregularities. [Eason, 253] It cures buzzing in the ears. Wearing an Agate in the middle of the chest strengthens the cardiac muscle, and heals emotional disharmony. [Megemont, 16]
Moss Agate stimulates the digestive system, relieves gastritis, and aids in the elimination of toxins from the body. [Megemont, 16][Melody, 93] Agate may also reduce the symptoms of epilepsy, and for some people guards against sleepwalking. [Megemont, 15]
Moss Agate Emotional Healing Energy
Moss Agate brings peace and stability to the emotional body. It is especially helpful to those who experience extreme mood swings and those addicted to emotional drama in their lives. It soothes volatile tempers and promotes patience, wholeness, and inner calm. [Ahsian, 13]
Moss Agate releases deep-seated fear and stresses, expanding one's personal space and growth. It stimulates a good self image and strengthens positive personality traits, including the ability to get along with others. An optimistic stone, Moss Agate is helpful for those suffering from difficult life circumstances, depression or brain imbalances to find hope and trust, and to keep trying. [Hall, 48]
Moss Agate Chakra Healing and Balancing Energy
Agate stabilizes the aura, eliminating and transforming negative energies. Its cleansing effect is powerful at all levels.[Melody, 82][Hall, 39]
Moss Agate is associated with the Heart Chakra, located near the center of the breastbone. It regulates our interaction with the external world and controls what we embrace and what we resist. It gives us the balancing ability to be ourselves within the environment. When the heart chakra is out of balance you may feel either controlling or controlled in a relationship, and become critical of the little foibles of others. You may well find yourself having inappropriately strong emotional responses to everyday external stimuli. Green crystal energy is used to resolve blockages and to re-balance the heart chakra, helping us understand our own needs and emotions clearly. We can deal with the ebbs and flows of emotional relationships, understand their cyclic nature, and accept the changes.

Moss Agate Spiritual Energy
Moss Agate encourages the spiritualization of one's life in all aspects, helping to overcome negative behaviors which may be karmic attachments from past lives, and to find the will to replace these patterns with the Divine blueprint of one's Higher Self. Its steadfast energy holds these aspirations into view until manifestation can take place. [Ahsian, 12]
Agate raises awareness and links into the collective consciousness of the oneness of life. It encourages quiet contemplation of one's life experiences that lead to spiritual growth and inner stability. [Hall, 39][Melody, 82]
Moss Agate opens the lines of communication with the devas and Nature Spirits, reminding us that the world itself is a living being, physically and spiritually. [Ahsian, 12]


Moss Agate Amulets and Talismans
Moss Agate was used as a talisman to make warriors strong and victorious, and for protection against poisonous snakes and scorpions.
Agate amulets were worn in antiquity to guard from all dangers and to enable the wearer to vanquish earthly obstacles, such as high winds and lightning. [Kunz, 51] Ancient seafarers used Agate in amulets of protection from the fury of the surging ocean.[Kunz, 39]
Agates are Seeker Transfomer crystals. Seekers contain the crystal energy structure that aligns the natural energy of the crystal to the natural power of the human mind to find the way to new horizons and new capabilities. They're pointers, directors, and compasses; the fresh start crystals. These are talismans of the scientist, the adventurer, the hunter, wanderer, and explorer. They're also crystals of the student and the researcher.
Transformer crystals enhance efforts to change our situations, prospects, health, outlook or relationships. By transforming ourselves we transform our lives. We learn to dance, speak a new language, grow stronger, or become a better spouse or child. Seeker crystals with the earth power of the Transformer are excellent talismans to aid our efforts to grow, develop new capabilities and change our lives.

Moss Agate Feng Shui
Moss Agate utilizes Wood energy, the energy of growth, expansion, new beginnings, nourishment and health. It enhances vitality, brings abundance, and keeps us growing physically. Use green crystals to enhance any space used for eating, in the room of a small child, or in a place of your home where you are beginning a new project. Wood energy is traditionally associated with the East and Southeast areas of a home or room. It is associated with the Family and Health area, and the Prosperity and Abundance area.

Moss Agate in Ancient Lore and Legend
Moss Agate was considered a miraculous healing stone for tribal priests of the past, giving them power to interact with our human organic system. Throughout the centuries, Moss Agate was considered the most powerful of medicines, healing wounds, clearing out poisons, and protecting against venomous reptiles. It was believed to make warriors strong and victorious, increase longevity, and aided the wearer in warding off self-induced anger, bitterness, and other negativity. [Mella, 69]
Pliny, a Roman historian, quoted the Magi as teaching in Persia that storms might be averted by burning Agates. [Fernie, 311-312]
Agates were believed to make their wearers agreeable, persuasive, and give them the favor of God, guarding them from all dangers, and enabling them to vanquish earthly obstacles, such as high winds and lightning. [Kunz, 51] Ancient seafarers used Agate in amulets of protection from the fury of the surging ocean. [Kunz, 39]
The wearing of Agate was believed to be a cure for insomnia and was thought to induce pleasant dreams. [Kunz, 52]
Legends claim Agate to have the power to secure the wearer from danger and to protect children from falling, and to endow their owners with strength, courage and the ability to heal fears. [Mella, 68]
Agate has a rich history of divinely revealed images within its natural veining, inclusions and markings. Such images as the Virgin Mary, Jesus, John the Baptist, angels and various other human forms have manifested themselves in these natural works of art and are found in churches and museums around the world.
Agate is believed to be the middle stone in the third row in the breastplate of the High Priest. [Kunz, 276]

Footnote References
The symbols [ ] enclose the author's name and a page number for a reference cited from the following books:
[Ahsian, pp.] Robert Simmons & Naisha Ahsian, The Book of Stones (Berkley, CA: North Atlantic Books, 2007).
[Eason, pp. ]Cassandra Eason, The New Crystal Bible (London: Carlton Books Ltd., 2010).
[Fernie, pp.] William T. Fernie, The Occult and Curative Powers of Precious Stones (Blauvelt, NY: Rudolph Steiner Publications, 1973).
[Gienger, pp.] Michael Gienger, Healing Crystals (Scotland: Earthdancer Books, 2009).
[Hall, pp.] Judy Hall, The Crystal Bible (Cincinnati, OH: Walking Stick Press, 2003).
[Hall 2, pp.]Judy Hall, The Crystal Bible 2 (Cincinnati, OH: Walking Stick Press, 2009).
[Kunz, pp.] George Frederick Kunz, The Curious Lore of Precious Stones (New York: Dover Publications, 1971).
[Megemont, pp.] Florence Megemont, The Metaphysical Book of Gems and Crystals (Rochester, VT: Healing Arts Press, 2008).
[Mella, pp.] Dorothee L. Mella, Stone Power II (Albuquerque, NM: Brotherhood of Life, Inc., 1986).
[Melody, pp.] Melody, Love Is In The Earth (Wheat Ridge, CO: Earth-Love Publishing House, 1995).
[Raphaell, pp.] Katrina Raphaell, Crystal Enlightenment (Santa Fe, NM: Aurora Press, 1985)
[Simmons, pp.] Robert Simmons & Naisha Ahsian, The Book of Stones (Berkley, CA: North Atlantic Books, 2007).